Diving Early 1900s Style
September 15th, 2015 by Piper Smith
This helmet was made in Florida by the Miller-Dunn Company. Established in Miami at the very end of the 19th century, MIller-Dunn opened the underwater world to research, recreational and commercial divers with their revolutionary open bottom diving helmet. It replaced burdensome equipment and crew with minimal gear, greater visibility, and only one attendant needed. Miller-Dunn's open-bottom helmets, with their low cost and ease of use, are the origins of today's recreational diving industry. This Miller-Dunn model III helmet is the same type that Art McKee wore while salvaging the treasure of the 1733 Plate Fleet.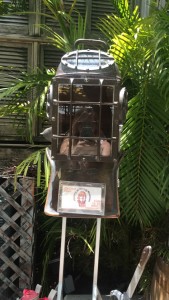 Two-cylinder pumps such as this one were an essential part of the open-bottom helmet diving outfit– supplying air form the urfae to the diver below. These small pumps made diving to as deep as 60 feet in the warm, shallow waters relatively safe. They were inexpensive and easy to use compared to the cumbersome box pumps in common use at the time.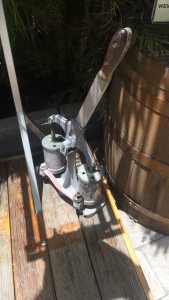 Most frequently used as part of the US Navy Mark V diving dress, these boots feature brass toe caps and lead soles with canvas uppers and rope laces. They weigh 20 lbs. each and helped keep divers upright.