Vandenburg: The Artificial Reef
October 8th, 2015 by Piper Smith
Properly prepared artificial reefs help take human pressure off natural coral reefs and provide alternative structures for scuba divers to explore and additional habitats for marine life, increase marine life populations, boost the local economy, provide a platform for education and research, as well as preserve the history and heritage of the vessel.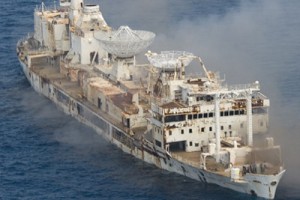 The USNS Gen. Hoyt S. Vandenberg that once tracked space launches off Cape Canaveral, FL, and monitored Soviet missile launches during the Cold War, was added to a list of military vessels purposely sunk off the Florida Keys to become artificial reefs, thus preserving a bit of U.S. history. Approximately seven miles south of Key West International Airport in nearly 150 feet of water in the Florida Keys National Marine Sanctuary. The site was chosen 10 years ago, with input from interested parties. Permitting was required from 18 different agencies. More than 130 dives were conducted to survey the site.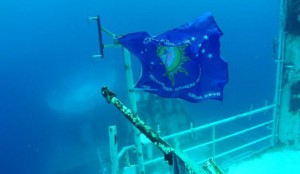 The ship is now the second largest vessel in the world ever purposely sunk to become an artificial reef. The sinking also represents the southernmost part of the Florida Keys Shipwreck Trail, a series of intentionally sunk vessels that begins off Key Largo with a former Navy landing ship dock, the Spiegel Grove (sunk in 2002), and ends with the Vandenberg.